LifeCare Home Care is a licensed and certified Medicare home care provider.
Frequently Asked Questions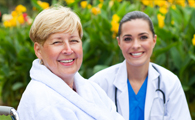 What is Home Care?
"Home care" is a simple phrase that encompasses a wide range of health and social services. These services are delivered at home to recovering, disabled, or chronically ill persons in need of medical, nursing, social, or therapeutic treatment and/or assistance with the essential activities of daily living.
Generally, home care is appropriate whenever a person prefers to stay at home but needs ongoing care that cannot easily or effectively be provided solely by family and friends. More and more older people, electing to live independent, non-institutionalized lives, are receiving home care services as their physical capabilities diminish. Younger adults who are disabled or recuperating from acute illness are choosing home care whenever possible. Chronically ill infants and children are receiving sophisticated medical treatment in their loving and secure home environments. As hospital stays decrease, increasing numbers of patients need highly skilled services when they return home. Other patients are able to stay at home to begin with, receiving safe and effective care in the comfort of their own homes.
The term home health agency often indicates that a home care provider is Medicare certified. A Medicare-certified agency has met federal minimum requirements for patient care and management and therefore can provide Medicare and Medicaid home health services. Individuals requiring skilled home care services usually receive their care from a home health agency. Due to regulatory requirements, services provided by these agencies are highly supervised and controlled. Some agencies deliver a variety of home care services through physicians, nurses, therapists, social workers, and home health aides. Other home health agencies limit their services to nursing and one or two other specialties. For cases in which an individual requires care from more than one specialist, home health agencies coordinate a caregiving team to administer services that are comprehensive and efficient. Personnel are assigned according to the needs of each patient. Home health agencies recruit and supervise their personnel; as a result, they assume liability for all care.
Most Americans older than 65 are eligible for the federal Medicare program. If an individual is homebound, under a physician's care, and requires medically necessary skilled nursing or therapy services, he or she may be eligible for services provided by a Medicare-certified home health agency. Depending on the patient's condition, Medicare may pay for intermittent skilled nursing; physical, occupational, and speech therapies; medical social work; HCA services; and medical equipment and supplies. The referring physician must authorize and periodically review the patient's plan of care. With the exception of hospice care, the services the patient receives must be intermittent or part time and provided through a Medicare-certified home health agency for reimbursement.
---
How Do I Choose a Home Care Provider?
Once you acquire the names of several providers, you will want to learn more about their services and reputations. Following is a checklist of questions to ask providers and other individuals who may know about the provider's track record. Their insight will help you determine which provider is best for you or your loved one.
How long has this provider been serving the community?
Does this provider supply literature explaining its services, eligibility requirements, fees, and funding sources? Many providers furnish patients with a detailed "Patient Bill of Rights" that outlines the rights and responsibilities of the providers, patients, and caregivers alike.
How does this provider select and train its employees? Does it protect its workers with written personnel policies, benefits packages, and malpractice insurance?
Are nurses or therapists required to evaluate the patient's home care needs? If so, what does this entail? Do they consult the patient's physicians and family members?
Does this provider include the patient and his or her family members in developing the plan of care? Are they involved in making care plan changes? Is the patient's course of treatment documented, detailing the specific tasks to be carried out by each professional caregiver? Does the patient and his or her family receive a copy of this plan, and do the caregivers update it as changes occur? Does this provider take time to educate family members on the care being administered to the patient?
Does this provider assign supervisors to oversee the quality of care patients are receiving in their homes? If so, how often do these individuals make visits? Who can the patient and his or her family members call with questions or complaints? How does the agency follow up on and resolve problems?
What are the financial procedures of this provider? Does the provider furnish written statements explaining all of the costs and payment plan options associated with home care?
What procedures does this provider have in place to handle emergencies? Are its caregivers available 24 hours a day, seven days a week?
How does this provider ensure patient confidentiality?
Contact each reference and ask:
Do you frequently refer clients to this provider?
Do you have a contractual relationship with this provider? If so, do you require the provider to meet special standards for quality care?
What sort of feedback have you gotten from patients receiving care from this provider, either on an informal basis or through a formal satisfaction survey?
Do you know of any clients this provider has treated whose cases are similar to mine or my loved one's? If so, can you put me in touch with these individuals?
---
Home Care Patient Rights
Home care patients have the right to:
be fully informed of all his or her rights and responsibilities by the home care agency;
choose care providers;
appropriate and professional care in accordance with physician orders;
receive a timely response from the agency to his or her request for service;
be admitted for service only if the agency has the ability to provide safe, professional care at the level of intensity needed;
receive reasonable continuity of care;
receive information necessary to give informed consent prior to the start of any treatment or procedure;
be advised of any change in the plan of care, before the change is made;
refuse treatment within the confines of the law and to be informed of the consequences of his or her action;
be informed of his or her rights under state law to formulate advanced directives;
have health care providers comply with advance directives in accordance with state law requirements;
be informed within reasonable time of anticipated termination of service or plans for transfer to another agency;
be fully informed of agency policies and charges for services, including eligibility for third-party reimbursements;
be referred elsewhere, if denied service solely on his or her inability to pay;
voice grievances and suggest changes in service or staff without fear of restraint or discrimination;
a fair hearing for any individual to whom any service has been denied, reduced, or terminated, or who is otherwise aggrieved by agency action. The fair hearing procedure shall be set forth by each agency as appropriate to the unique patient situation (i.e., funding source, level of care, diagnosis);
be informed of what to do in the event of an emergency; and
be advised of the telephone number and hours of operation of the state's home health hot line, which receives questions and complaints about Medicare-certified and state-licensed home care agencies.
---
What if a Problem Develops?
If you invest some time and follow the steps outlined in this website, you most likely will receive high-quality, safe, and effective home care. If a problem develops, however, or if you would like to issue a complaint, notify the home care provider's director of nurses or administrator, the state health department or state Medicare hot line, and/or the local Better Business Bureau.
Although rare, cases of fraud do exist in some health care operations. These fraudulent activities waste valuable health care dollars. If you suspect fraud, even on the slightest scale, you should report these activities to your state department of health. If a case involves the delivery of Medicare home care services, contact the Office of the Inspector General hot line at 800/HHS-TIPS.
---
Does Medicare Cover Home Health Care?
Medicare covers your home health services for as long as you are eligible and your doctor says you need these services. However, the skilled nursing care and home health aide services are only covered on a part-time or "intermittent" basis. This means there are limits on the number of hours per day and days per week that you can get skilled nursing or home health aide services.
Medicare covers skilled nursing, physical therapy, speech-language therapy, occupational therapy, medical social services and home health aide services in the home if the patient meets certain criteria:
The care must be provided on a part-time intermittent basis, be reasonable and necessary to treat the illness or injury.
The patient must be under the care of a physician.
The patient must be homebound.
Currently there is no co-pay for Medicare Home Health and Medicare Home Health is exempt from a deductible.
---
What Does Homebound Mean?
There is a normal inability to leave home without a considerable and taxing effort.
Your physician may certify you homebound due to a medical condition limiting your ability to drive for a short period of time.
The need for supportive devices in conjunction with physical limitations is taken into consideration when considering homebound status.
Status is not affected by frequent absences from home for medical care that cannot be provided in the home.
Patient is allowed brief and infrequent absences from home for non-medical reasons.
Not met when there are frequent absences from home for non-medical reasons.
Not met when the patient is able to drive a car.
Note: A patient's inability to drive does not make him/her homebound.
---
How Do I Get Home Health Care?
You must contact your physician who will arrange for a home health evaluation to see if you qualify for in-home care. There is no charge to either you or Medicare for an evaluation if you do not qualify.
---
What Services are Available to a Home Care Patient?
Medicare requires that you have a need for a "skilled service," and they must be ordered by your physician. These services are provided by a Nurse or Therapist as follows:
Skilled Nursing: A Registered Nurse (RN) or Licensed Vocational Nurse (LVN) provides Colostomy Care, Enteral Nutrition/TPN, Medication Management, Medical Management, IV Therapy, Pain Management, Post-Surgical Care and Wound Care.
Physical Therapy: For patients with acute nerve, orthopedic or muscle disorders, a routine program of light exercise or stretching activities is established. The therapy routine is designed to increase movement and mobility.
Speech Therapy: Speech Therapy is provided to improve communication skills for those with impaired ability to use language and speech. Patients recovering from a stroke, head injury or hearing loss may benefit, as well as those having difficulty with chewing and swallowing as a result of an illness, stroke or progressive medical condition.
Occupational Therapy: Occupational therapy must be ordered by the physician ONLY along with another skilled service. This therapy helps patients regain fine motor coordination and improve daily living activities such as dressing and feeding.
---
What Other Services Are Available?
If you are already receiving a qualifying "Skilled Service" (such as skilled nursing), additional services may also be available to you such as:
Home Health Aide: After the level of care is established by a Registered Nurse, the aide may help with bathing and grooming, dressing, walking, transfers from bed to chair. An aide may provide help with some routine services for the patient (such as bed linen changes), or prepare and feed nutritious meals. While the aide is not allowed to administer medicines (this is the job of an RN/LVN), the HHA may provide reminders to take medicines on time.
Medical Social Services: The home health Social Worker may provide counsel to patients and families for long range planning and decision making, and help coordinate services with other community resources and agencies. Services are designed to improve the patients physical, emotional and functional status.