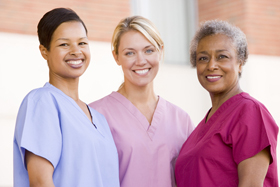 Haven's clinical team members are among the best in the industry and are selected for being the best at what they do. Each clinical team member is encouraged to share ideas across multiple disciplines enabling improvements in patient care and fostering growth for our company. The clinical team is composed of Nurses, Physical Therapists, Master Social Workers, Licensed Vocational Nurses, Occupational and Speech Therapists as well as Home Health aides. Our staff is truly committed to quality patient care and are proud to be a part of Haven Home Health. To make sure we continue to attract these outstanding people, we have a compensation package that consists of salary based upon skill levels, attractive benefits package, and bonus programs awarded for top performers.
---
Employment Form
We appreciate your interest in Haven Home Health! Click here to apply for any of our open or on-going positions..


Haven Home Health, LLC is a licensed
and certified Medicare home care provider.