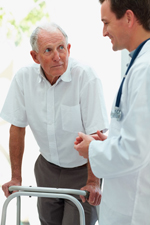 Haven Home Health, LLC is devoted to quality patient care. We serve both physician and patient-- our highly experienced staff is easily accessible, and are committed to fulfilling our patient's needs to their optimum potential. We utilize eFax electronic faxing systems, and Kinnser software (patient database) to streamline back office processes for maximum efficiency. As a physician, you can set up a personal account to digitally sign, send, and receive orders to manage your home health related documentation, as well as your patient's progress. This web-based, secure service manager is provided by Kinnser Software, a leader in home health systems. Further instruction can be found on Kinnser's Website concerning Kinnser Physican Acesss.
What sets us apart in this industry is our patient outcomes. Compare our results against other agencies! As of June, 2012, Haven is in the top 4% in the nation for home health compare of quality measures from Medicare. A mandatory state audit in the spring of 2015 resulted in ZERO deficiencies as well as ZERO licensing violations, unusual for a Category 4 agency. The Texas Department of Aging and Disability Services (TDADS) also found zero violations or deficiencies in our 2012, 2013, and 2014 inspections. Compare this against other agencies. For 8 consecutive years we have been recognized as a leading home care agency by HomeCare Elite. Haven's continual growth is a product of our sustained, unbeatable quality of care and dedication to being the best there is in the industry.
Our normal office hours are 8:30am to 5:00pm CST, Monday through Friday. An on-call nurse is always available during off hours. If you're not sure which office to call, dial our toll-free number at 866-539-0444.
Haven Home Health Patient Forms
Haven Home Health offers the following services:
Skilled Nursing
Physical Therapy
Occupational Therapy
Speech Therapy
Medical Social Services
Home Health Aide

Helpful Links
Kinnser Login
Kinnser Physician Access Information
Haven Outcome Comparison Stats
Haven Annual Inspection Score Comparison
Video by Palmetto - How to Document Homebound
Our specialty programs include:
CHF
COPD
Neurological Disease
Pain Management
Total Knee and Hip Replacement
Risk Prevention
Diabetes
Hospitalizations and Unplanned Care
Oncology
Wound Care and Pressure Ulcers


Haven Home Health, LLC is a licensed
and certified Medicare home care provider.