A mandatory state audit in the spring of 2015 resulted in ZERO deficiencies as well as ZERO licensing violations, unusual for a Category 4 agency.
The Texas Department of Aging and Disability Services (TDADS) found zero violations or deficiencies in our 2012, 2013, and 2014 inspections. Compare us against other agencies!
Haven is a 2010 Winner of the Dallas Business Journal's Ethics Award.
Haven is a 2010 Winner of "Best Work Places," administered by The Dallas Morning News.
Haven is a 2009 and 2010 Winner of "Best Places to Work" in North Texas, an award administered by The Dallas Business Journal. Haven is the only home health agency winner in both 2009 and 2010.
Every year since 2006, OCS, Inc. (www.ocsys.com) has recognized Haven on their annual HomeCare Elite list. This list highlights the top 25% home health companies in the U.S. "whose performance measures in quality, improvement and financial performance are the best." Haven was ranked as a "Top 500" agency nationwide in the 2007, 2009, 2010, 2011, 2012, 2013, and 2014 HomeCare Elite list.
The Texas Medical Foundation (TMF) recognized Haven with their 2007 Silver Quality Achievement Award for improvement in Management in Oral Medication and Improvement in Dyspnea. The TMF program recognizes home care companies who achieve statistically significant improvement (SSI) in a chosen clinical outcome.
The company was awarded two prestigious honors in 2006. The Cox Business School at SMU ranked Haven Home Health as #28 in their 2006 "Dallas 100," a list of the 100 fastest growing, privately held mid-size companies in the Dallas area.
According to CareScout's rating system, Haven Home Health, LLC outperformed its peers statewide on mandatory government survey-inspections in 2006.
Haven Home Health, LLC consistently receives superior scores by Medicare's Home Health Compare, which scores home health agencies in 12 quality measures. View our statistics!!
Company History
Haven Home Health, LLC was organized in November 2002 in Dallas, Texas and opened its doors for business with 3 employees on April 1, 2003. The initial survey found zero deficiencies on June 13, 2003 resulting in the Company being Licensed and Certified on June 16, 2003. By the end of 2003, the Company had expanded into Tarrant County with a new branch office in Fort Worth and had grown to employ 60 full and part time employees. Early in 2007, a new Haven office was opened in Ennis. Today, we have nearly 110 employees to serve patients in 12 North Texas counties.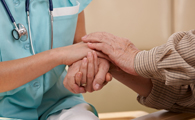 Values
Patient-Centered - We are our patient's advocate, their friend and their dependable care provider. Our patients receive our expertise, care, and encouragement. Our commitment is to be reliable and helpful. We go the extra mile for every patient, every time.
Care & Compassion - Our clinical staff is genuinely interested in our patient's total well being. This begins by being empathetic and respectful of the patient's and family member's concerns. We understand the anxiety and fear associated with the healing process. Our quality care is provided in a supportive and personalized manner.
Ethics - We strive in a spirit of excellence to practice according to Medicare guidelines. Our decisions and policies are based on doing what is in the best interest of the patient.
Honesty & Integrity – In all that we do, we do with an honest heart. We endeavor to do the right things, the right way, for the right reason.
Leadership – Our leaders set standards for superior service and are committed to improving the life of the patients. They provide an environment to support and creativity and encourage continual improvement.